Sadar Bazaar, one of the prominent markets of Dilli-06, is always bustling with hawkers and porters and people driving a hard bargain at the wholesale market. It is located on the western side of Khari Baoli and Chandni Chowk and is known as the largest wholesale market of household items in Delhi. It is famous for its jewellery and clothing markets, which are sold at amusing prices!
Like her sister Chandni Chowk and Chawri Bazaar, Sadar Bazaar takes you back to medieval times with its rustic architecture, and the aroma of the scrumptious Rajma Chawal and Chole Bhature pulls you in. Besides being a wholesale market, it also caters to the occasional retail shoppers looking for a smaller portion of products to buy.
Key Facts
| | |
| --- | --- |
| Days Open | All days except Sundays |
| Timings | 11:30 a.m. – 6:00 p.m. |
| Famous for | Jewellery, Household, Cosmetics, Traditional Wear, Toys, and more… |
| Nearest Metro Stations | Tis Hazari (2.7 km), RK Ashram (2.2 km), and Chandni Chowk (2.8 km). |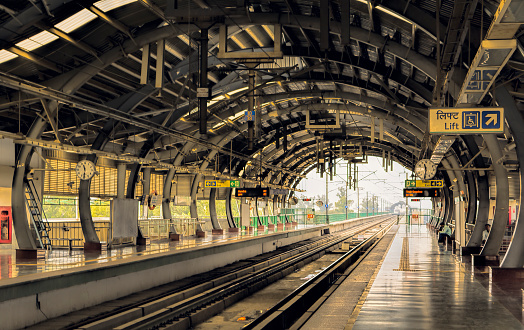 By Metro: Tis Hazari (2.7 km) on Red Line, RK Ashram (2.2 km) on Blue Line, and Chandni Chowk (2.8 km) on Yellow Line.
Railway Station: Delhi Sadar Bazaar (Code: DSB) [Only passenger trains stop at this station].
Bus Stop: Lodhi Chowk (1.5 km). One can also come to Kashmere Gate, which is 4.0 km from the Bazaar.
The Old Delhi Railway Station (3 km) and New Delhi Railway Station (2.1 km)

are also close to this market area and

15.2 km

from

Indira Gandhi International Airport.
What can I find at Sadar Bazaar?
Let's explore the places that make Sadar Bazaar so popular:
Shopping
This wholesale market has a lot to offer. For fashion lovers, Sadar Bazaar is home to all the dazzling jewels and traditional wear. You can find a good collection of sarees and suit pieces available at a reasonable cost for men and women. It is also home to imitation jewellery and costumes. You name the item, and it will be available here.
Utensils and items are made out of timber and brass, and you will find them at one of the sub-markets called Timber Market. Articles of daily use are easily found here. There are also a plethora of toys and stationery products sold at a very nominal price. Sometimes even at 1 rupee!
Explore a range of authentic Indian products sold at Swadeshi Market. The market has unlimited things to choose from.
You can even visit the famous Patri Bazaar

. The area sells festive products suitable for Diwali, Janmashtami and more. When a festival is coming up, Patri Bazaar is bedazzled with festive goods, and the market at that time looks lovely.

Small trinkets and souvenirs can be bought for your loved ones. The market is an ocean, and there is so much to explore.
Food
Shopping can get you exhausted but fret not; you can fuel yourself with the fantastic street food the Bazaar has to offer.
1. Nand Di Hatti
They serve amazing Chole Bhature. The helping is good enough, and they do it with a piece of amla as it is believed it eases digestion.
2. Toliye Wali Gali
The Rajma Chawal of Toliye Wali Gali is perfect for your hunger pangs. They serve it hot with freshly chopped onions and lemon squeezed in the Rajma curry. Some people visit this place regularly because of its quality and taste.
3. Sardar Ji Shakes
For your sweet tooth, Chappal Wali Gali serves a variety of desserts. Gajar ka Halwa and Dal ka Halwa are topped with finely chopped almonds, raisins, and small fruits. In summer, they serve fresh Mango milkshakes, chilled, and every sip has a chunk of mango.
All items mentioned above come under Rs. 100.
Head to Food 99 at Imli Wali Gali for excellent kebabs and rolls. They serve a variety of non-veg delicacies, and people have claimed to love their Shami kebabs. Chicken Satay and spring rolls are also freshly served along with chutneys and chopped onions with green chillies.
There are a lot of restaurants and street food to choose from, and, of course, the food here is to die for.
History of the Market
Sadar Bazaar means 'main' or 'central market', which is believed to be functional since the 17th Century. It started as a small covered market for the daily needs and necessities of the residents living in the neighbourhood. With time, the Bazaar grew with more shops and sub-markets opening, like Pratap Market, Swadeshi Market, and Timber Market. Today, many people are running their spice, clothing and jewellery businesses here. Some businesses have been running since the Baazar was set up, and their successors are still running them.
Places nearby
Sadar Bazaar is close to Chandni Chowk and Chawri Bazaar. It is in proximity to Khari Baoli, Asia's largest spice market and Bhagirath Palace, the market of lights. While there, you can also visit the famous Lal Qila and Jama Masjid.
Sadar Bazaar Timings
It functions from 11:30 a.m. to 6:00 p.m. The market is open every day except Sundays.
Lastly, Sadar Bazaar is one of Delhi's oldest markets; visiting here is a must. It will take you back to the bygone era and the real Delhi feels. Come here and shop till you drop.